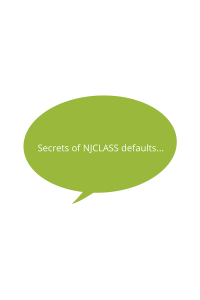 Do you have an NJCLASS loan in default?  Here's what happens and what you can do.
NJCLASS loans are set up in a certain way to keep most borrowers from defaulting.  The primary method that NJHESAA seems to use to keep NJCLASS borrowers from defaulting is by requiring cosigners.
New Jersey state law governs NJCLASS loans. And under New Jersey law, NJHESAA, the state agency that issues NJCLASS loans, is allowed to screen potential borrowers for creditworthiness when deciding whether to issue them an NJCLASS loan.  If a potential borrower is not deemed credit worthy for an NJCLASS loan, NJHESAA can require the potential borrower to get a cosigner for the NJCLASS loan.
Many people don't realize that a cosigner is equally responsible for a loan that he or she co-signs, just as if he or she were the primary borrower.  Often, NJCLASS cosigners are parents or other relatives who own real estate or who otherwise have more assets than the student/primary borrower.  If the primary borrower and cosigner were to default (fail to make required payments) on the NJCLASS loan, a cosigner's assets, such as real estate, might be at risk.
This is because borrowers who default on loans can be sued and have a judgment entered against them for the unpaid loan amount.  One of the post-judgment remedies is the placement of a lien on real estate, which encumbers the real estate.  An encumbrance on real estate, such as a lien, generally must be paid off before the real estate can be sold.
Many cosigners understandably feel threatened by the existence of these post-judgment remedies and are thus more likely to help the primary borrower with NJCLASS payments.
But what happens when neither the primary borrower can afford the payments that NJHESAA is demanding?  That's where negotiation comes in – you may have no choice but to let the NJCLASS loan go to a collection law firm and to negotiate payments with that firm.  If you have one or more NJCLASS loans that you cannot afford, call New Jersey student loan lawyer Jennifer N. Weil, Esq. at (201) 676-0722.